Developed by MCL's research group on thermal management material, the Al-based MMCs is available for high demand users. We can provide you graphite series Al-based composite substrate or heat spreader to meet your specific needs on thermal management.


Able to offer
As shown in the following photos, the substrates were custom designed for Taiwan's local LED manufacturers to meet their unique requirements. The MCL research team with interdisciplinary expertise is able to offer those substrates with special circuit for different high power LED applications.
| | |
| --- | --- |
| | |
| (a) MCL-G350 composite material | (b) MMC Composite substrate for LED |
The composite materials are endowed with tunable high thermal conductivity, light weight and low thermal expansion coefficient. Our unique production processes also enable a high cost/performance ratio to meet your special requirements. There are potential applications for thermal base, substrate and heat spreader in many areas, such as CPU/GPU cooler, high power LED, power modules (IGBT), and even used in electric vehicle and hybrid car.
The composite material is light weight with a density of about one thirds of Cu and steel, one fifths of CuMo alloy, and one sixths of CuW. Its thermal conductivity, with a much lower CTE compatible with semiconductor, is higher than Cu and Al¡¦s. In addition to above advantages, the thermal dissipation capability as shown in the following graph proves it a perfect material for high demand applications.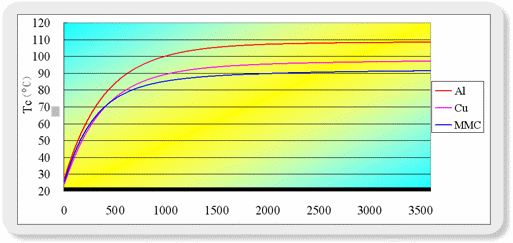 Comparison of thermal performance with Al and Cu
With more than 10 years experience, the team also can tailor the thermal conductivity and CTE of MCL's graphite series Al-based MMC between 300~550 W/mK (Kxy =), and 3~10 ppm/K, respectively. The substrate with comparable Kxy and Kz is one of our current research goals for a commercial production. The following table is the comparison of MCL's unique composite substrate material with commonly used materials.
Sample
Designation

Density
(g/cm3)

Conductivity
(W/m*K)

CTE
(ppm/K)
RT~100¢J

Flexural Strength
(MPa)

Graphite series Al-based
MMC

2.3~2.5

100~150(¢r)

-

500~350(ùù)

3~10

70~80

Cu

8.9

380

16.5

250

Al

2.7

200

24

210
---

Key Technologies, Facility and Services
Metal Matrix Composite; High thermal conductivity; Thermal management; LED substrate; Heat sink; Heat dissipation; Heat spreader; High powere IC
---