MCL's anti-fouling coating is proved to be an excellent solution to the maintenance of building and vehicle's exterior, particularly the anti-fouling effect on glass. Minerals in water such as calcium/magnesium carbonates can easily deposit onto glass surface creating hard to clean spots. Traditionally, diluted HF and some other chemicals were used to clean the stubborn stains, however, resulting in problems of environment pollution and weakening physical strength of the glass.
Since 2007, we have been cooperating with local companies to apply this coating to railway trains' window and windshield glasses. In addition to easy cleaning without using difficult tooling, a tremendous saving of maintenance hour reduce the idle time of trains, and hence increases the effectiveness of service operation.

The MCL's easy-clean coating on window glass was approved to help reduce the idle time
and save lab hours for HST and Taiwan Railway's trains.
The coating durability has been tested under Xenon arc light exposure and by wet abrasion scrub, abiding by the standard codes of ASTM G155 and ASTM D2486 respectively. In the graph(a) the contact angle didn't change much after 20,000 scrubs. In the graph(b), our coating was compared with other commercial products, and shown the ability to main high contact angle after 1200 hours exposure.
| | |
| --- | --- |
| | |
| (a) Wet abrasion scrub test | (b) Xenon arc light exposure test |
In addition to the application of MCL's product on vehicles' window glass, our easy-cleaning coating can also be applied even to some household objects and appliances, such as toilet, coffee cup, kitchen wall tile and others. One of the examples is shown in bottom photos, where the left one is coated by our product. There are more examples of potential applications under our investigation, if you're interested in acquiring the samples, please fill out the separate enquiry form.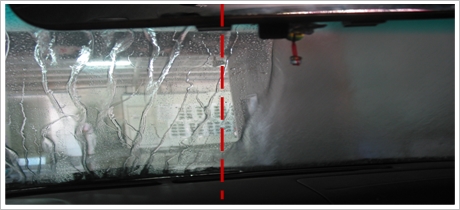 The photo shows the comparison of with and without the application of MCL's easy-clean coating
on windshield galss

The coffee cup is stain-free after service
---

Key Technologies, Facility and Services
Easy clean,Anti-fouling,Super-hydrophobic coating,Paint top coat,Vehicle windshield,
Train windshield
---
Contact information

Contact us: Ms. Maria Wu / Manager Tel: +886-3-5916827 Email: MariaWu@itri.org.tw