We offer CNT products, OEX-C200 series and CNF-C5000, for various applications including transparent conductive film, conductive filler, reinforcement filler and other custom demans.

The product CNF-C5000 features a low-tangled carbon nanofiber used for conductive filler (EMI, ESD) and reinforcement fillers (CFRP).
The discovery of carbon nanotube may date back to a patent regarding the carbon filament of incandescent lamp granted in 1889. However, only when in 1991, an NEC's scientist Dr. Iijima reported on Nature of his TEM observation, the mystery of a multi-walled carbon nanotube structure was unveiled. Since then, flourishing research activities have been carried out in many major research institutes in the world. Some postulate of its novel applications such as NASA's space elevator from the Earth to the moon have been discussed publicly. Numerous potential applications have been reported in the fields such as FPC, IC packaging, opto-electronics, energy storage, composited, among others.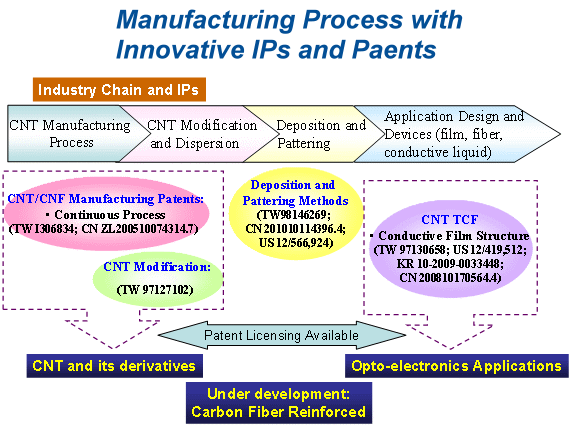 Figure1. Custom made products can be produced with our proprietary processing capability.
The focuses of ITRI technology expertise for the applications are in three major categories, which are:
"" opto-electronics
"" reinforcement
"" EMI/ESD film/coatings
In Material and Chemical Research Lab (MCL) of ITRI, a research team has been working on this subject over 8 years, and accumulated valuable experiences of key technologies covering manufacturing of carbon nanotube, morphology tailoring, dispersion, coating/patterning processes, and among others. With ITRI's unique CNT's properties, we are able to develop the applications with the forms of film, fiber, conductive liquid, and devices. As illustrated in Figure 1, among our innovative product technologies, two success cases including the licensing and technology transfer for CNT/CNF continuous manufacturing process, modification/dispersion, and CNT conductive film are underway.

With ITRI platform technologies, various innovative CNT products were developed for particular industrial applications. Two series were successfully developed, one is network structured OEX-C200 series and the other one is low tangled CNF-C5000. The flexible manufacturing routes developed in ITRI enable the morphology controlled CNTs for different applications. In addition to variety of morphologies, we can produce regular products with uniform size range, e.g. 40-60nm low-tangled CNF-C5000 and 1-3nm networked OEX-C200s with high conductivity.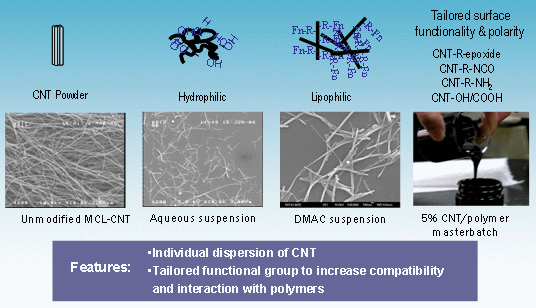 Figure 2. ITRI's proprietary processes for modification and dispersion provide custom made master batch for different applications.
The low-tangled CNF-C5000 is easily dispersed and modified by different functional groups to match the compatibility essential to our clients' special matrixes. ITRI's CNF-C5000 can be used in reinforced composite and EMI film, etc., which features a low-tangled morphology, easy dispersion, tunable tube diameter, easy surface modification, higher connectivity when dispersed for EMI shielding products. Figure 2 illustrates our unique capability of modifying and dispersing CNTs in different matrixes to client's special requirement.
The network-structured CNT combined with our unique proprietary technologies of structure design can achieve high transparent and high conductivity demands. The ITRI's CNT/PET features an excellent flexural-ability, as shown in Figure 3, roll-to-roll process readiness and overall lower processing cost. With competitive lower cost and comparable properties, CNT/PET conductive film is a potential candidate to replace ITO/PET film in certain opto-electronic applications. The comparison of OEX-C200s with world leading commercial products as shown in Figure 4, indicated that our products have excellent properties, particularly with a lower sheet resistance.

Figure 3. After bending 180¢X, ITRI"¦s CNT film retain a low sheet resistance, e.g. < 1000£[/"¼
The comparison of ITRI OE-CNT with other commercial products
Company

A

B

C

D

ITRI

Process

Arc
Discharge

High
Pressure
CVD

CVD

CVD

Proprietary

Diameter

1.3-1.5nm

0.8-1.2nm

1.5-1.7nm

0.8-1.2nm

2-2.5nm

G/D

~40

13

2.81

15

35

Carbon Purity(TGA)

60-70wt%

85wt%

>70wt%

>85wt%

>90wt%

Appearance(SEM)

High purity1

High purity1

High purity1

Lowpurity2

High purity1
1:embedded metal catalyst impurity
2:many spherical carbons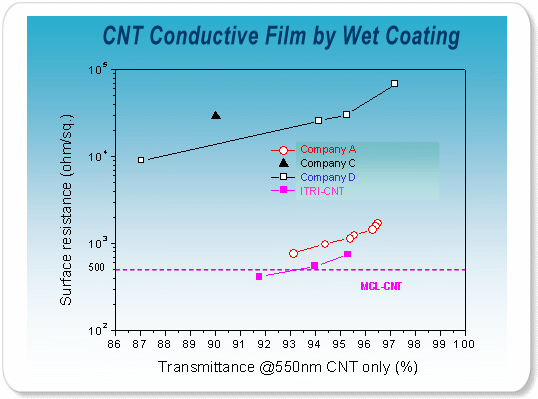 Figure 4. The table shows the comparison of ITRI's CNT with leading companies. A significantly high conductivity compared with commercial products, as shown in the right-hand plot, is the advantage of ITRI's OEX-C200s in addition to controlled morphology and sizes.
The following table summarizes the common properties of two regular series of CNT products. We also can offer the derivatives based on these CNT fiber/powder materials to meet customers"¦ novel applications. The product properties are for reference only not guaranteed, upon request we can provide samples to your needs.
| | |
| --- | --- |
| | CNF-C5000 |
| Purity (wt%) | >90% |
| Diameter (nm) | 40-60 nm |
| Surface area*( m2/g) | 50-100 |
| Length range*(μm) | >20 (as is); 1~10 (chopped) |
| Wall number* | NA |
| G/D Ratio | NA |
| Product type | Minimum order: 20g |
| cake, powder, solution | Chopped powder; As is (cotton-like) |
OEX-C202-AP

OEX-C202-P

OEX-C204-AP

OEX-C204-P

Purity (wt%)

>85%
(as produced)

>95%
(purified)

>85%
(as produced)

>95%
(purified)

Diameter (nm)

1.5-2nm
(~1.75nm)

1.5-2nm
(~1.75nm)

1.5-2.5nm
(~2.1nm)

1.5-2.5nm
(~2.1nm)

Surface area*
( m2/g)

300-400

300-400

300-400

300-400

Length range*(μm)

>20 (as is)
1~10 (chopped)

>20 (cake)
1~10 (chopped)

>20 (as is)
1~10 (chopped)

>20 (cake)
1~10 (chopped)

Wall number*

1

1

1

1

G/D Ratio

>100

> 100

>100

>100

Product type

Upon request if custom-made needed

cake, powder, solution

-AP: As is (cotton-like); Chopped powder (feather-like)
-P: Wet or dry cake (cotton-like); Chopped powder (feather-like); 0.035wt% aqueous solution
* for reference only, not guaranteed.
---

Key Technologies, Facility and Services
Custom made CNT cake, powder and master solution upon request;
Key words: Carbon Nano-Tube, CNT, low-tangled, networked structure, EMI shielding, reinforcement, high conductivity film, CNT master batch
---
Contact information

Contact us: Ms. Maria Wu / Manager Tel: +886-3-5916827 Email: MariaWu@itri.org.tw